Jamestown New Horizons (JNH), a special combination of children with disabilities, dedicated volunteers, experienced instructors, therapists and gentle horses, was founded in 1985 as a not-for-profit organization with a 501 © 3 federal tax status for the sole purpose of providing therapeutic riding for children with disabilities.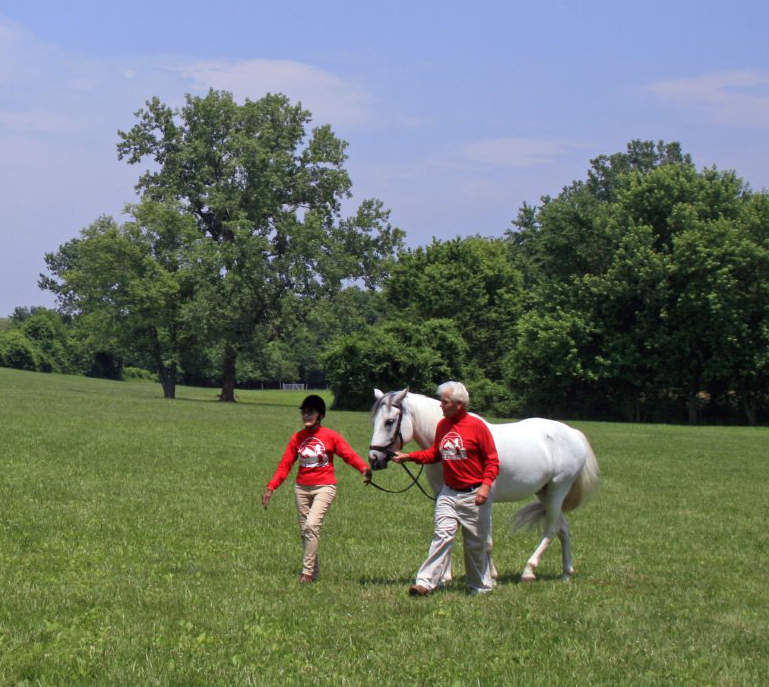 Jamestown New Horizons, founded by Bonnie and Oliver Grueninger, started with a strong foundation - their Jamestown Riding School. The school had maintained an incredible 22-year safety record while providing hunt seat equitation, jumping and dressage lessons as well as summer horsemanship camps to the non-disabled. Following research to determine the need for a program for people with disabilities, and learning that North County residents with disabilities had to travel considerable distance for therapy services, they involved the riding school's five English riding instructors and about 30 horsemen – long-time students and boarders – to create Jamestown New Horizons. Eight of those volunteers are still with the program as are the five riding instructors.
A Board of Directors was elected in January, 1985 and plans began to develop a therapeutic riding program. Jamestown New Horizons was incorporated as a not-for-profit organization in April, and received its 501 (c) (3) federal tax status in August. The vice-president of the organization designed logos for JNH which were registered as service marks with the federal government. Volunteers were put through rigorous training to teach them how to keep riders with disabilities safe on horses. They were required to wear the JNH uniform – red shirts with the JNH logo and tan slacks. Well-trained gentle school horses were given additional training introducing them to wheelchairs, walkers, crutches, side-walkers, and the newly constructed wheelchair mounting ramp – the first ever built to ADA standards at a therapeutic riding center. Jamestown New Horizons raised funds for insurance coverage and scholarships by having bake sales, car washes, a horse and dog show, garage sales, an auction held in the outdoor riding arena in the rain, and by soliciting nearby civic organizations.
People with disabilities were tested and evaluated by therapists and received their physicians written permission to participate in a therapeutic riding program. Goals for the riders were established and lesson plans were developed. On September 7, 1985, as planned, JNH began providing therapy for 17 people with disabilities. The following year, JNH was given a rating of Excellence by N.A.R.H.A., the national organization. By the end of 2016, JNH had provided 38, 470 hours of therapy to people with disabilities while maintaining a 100% safety record.